By Peter Sweeney on Dec 22, 2010 in Player Profile
This week the Player Profile spotlight falls on Timothy/Tim/Timmy Cronin – also known as Ranelagh Gaels Player of the Year 2010. He only joined the club at the start of the year and took time out from visiting Coppers and doing triathalons to play some pretty good football.
Name: Timothy Cronin
Age: 28
Hometown/club
: Tralee /John Mitchels
Occupation
: Business Analyst
Facebook status: Single…is that right? (I don't know Tim – you tell us)
Position (keep it clean!): Wing/full forward
Joined the Gaels: 2010
Best words of wisdom from Liam O'Hagan: "I could knock that over with me neddy."
Favourite Gaels memory: Beating Mayfield in the 7-a-side competition down in Macroom to progress to the semi-finals.
First three songs on your ipod/MP3 on shuffle: As The Crow Flies – Rory Gallagher, The Lemon Song – Led Zeppelin, The Auld Triangle – The Dubliners
Last decent film you saw: Inception
Black porter or red wine: Black porter
X-Factor or Frontline: Frontline
Grainne Seoige or Sharon Ni Bheolain
: Sharon Ni Bheolain
Soccer or rugby: Soccer
All-time favourite Coronation Street Character: None
All-time favourite cute-hoor Kerry man: Jackie Healy Rea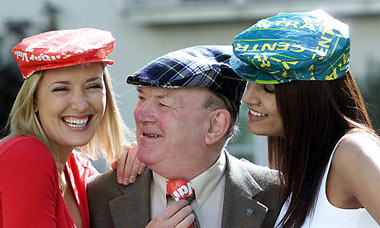 Least favourite thing about Junior football: Dirty feckers trying to take the head off ya instead of playing the ball
The Gaels player that should take over as Taoiseach and why: Cathal Mac Suibhne. Because he has the stuff to do and he'll go out and do it! Plus the cupla focal would come in handy as well.
You've just won the €7,100 top prize in the Ranelagh Gaels Club Lotto – you spend the money on: Pay off my debt from my New Zealand trip this year (2010) and a Gaels Jersey to fit Tadhg Kelly…there probably wouldn't much left after that!
Santy wants to know have you been a goody boy Timmy – and what you want for Christmas: Yes, I have been a good boy this year. I want santa to bring me the winning numbers for the next Ranelagh Gaels lotto draw!
Rule change that would make football better: Bring in the 'mark' rule, like in Aussie rules. It would encourage teams to improve their passing.
In ten years time the Gaels will be: 17 years old…like a nice bottle of Jameson!
Playing Junior C Football for Ranelagh Gaels is great because: I get to see places in Dublin that I would never get to see otherwise…like the north side.